Edit dictionary
When you click Create dictionary, Edit dictionary page is displayed.
Here, you can:
change the name of your dictionary, its licence and publish it
edit structure of entries
add collaborating users and their permissions
select an output template for the dictionary
Entry structure
At first, you should choose one of the offered templates under Entry structure. Then, you can modify it, or save it as it is.
Each element consists of these items:
| | |
| --- | --- |
| Element | this field represents an identifier for each part of the entry, used in XML format |
| Label | verbose description of the element |
| Headword | the primary key of the entry, only one can be specified; defines the most important component, it is the property you type in a search box |
| Multiple | a toggle allowing the element to be used multiple times inside one entry (e.g. for meaning, if the main entry has more than one) |
| Required | means the element must be specified (always keep checked for the headword element) |
| Type | defines an element format; it is a drop-down list containing options (text, number, file, etc.) described below |
On the bottom right corner of each element, there is a bin icon which would eventually delete the element when pressed.
To add a new element, click the Add element at the bottom of the template.
List of possible options for Type:
| | |
| --- | --- |
| text | is used for one word (headword, pronunciation, synonym, etc.) or short text like grammatical information |
| textarea | is suitable for a long text area like definition and usage examples |
| number | if an entry has more meanings, you can number them |
| container | this element carries other element(s) listed below, there shouldn't be any information written in the element itself |
| file | using type of element, you can upload a file |
| select | creates a box where you can write some options (e.g. in element part of speech – noun, verb, ...); these are offered when creating an entry |
| crossreference | you can link the entry with another one, from other dictionary to which you have an access |
At the bottom, there is Edit dictionary button which you should use to SAVE your entry structure.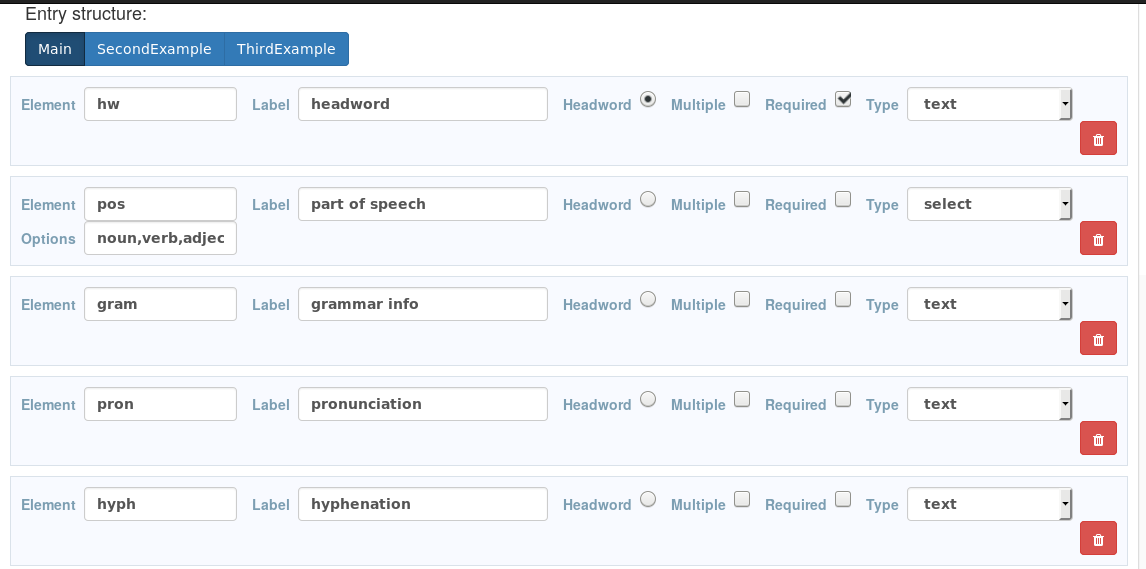 Users
Right under the Entry structure section, you can find a section where you manage your users, collaborators, on the dictionary. To add a user, click + Add user button. Two drop-down lists appear. One with users which you can add. The other with permissions which you can give them.

XSLT output templates
Here, you can set how entries in your dictionary are presented. Without this template your entries would be displayed only in XML format. Click + Add XSLT template button. Type a name of the template. The easiest way how to create the output template is to click on the Generate from setting button. Then, you can edit the generated code or click + Create and you are done.
A guide, how to write your own template in XSLT, can be found here.