Editing functionality (Edit tab)
Writing a new synset
click on Edit tab → New → choose Part of speech → type Synonym(s) → click Save
To create a new synset, choose the Edit tab and click the New button. You'll see red border around the form - this means that you are editing new entry, not an existing one.
In the form, you can see several boxes with labels and + buttons, for example Synonyms or Relations. When you click on the + button, a box will open with a group of form fields. The + button changes to - button, which you can use to hide the box if you feel the form is too complex.
For a new synset, you have to select at least Part of Speech and a synonym - click on Add button to add more synonyms. Don't forget to fill literal and sense number for each synonym. You can also fill in other information, like Definition, Usage or Relations.
When you are done, do not forget to click on Save button.
There are also some good advices about How to write a synset.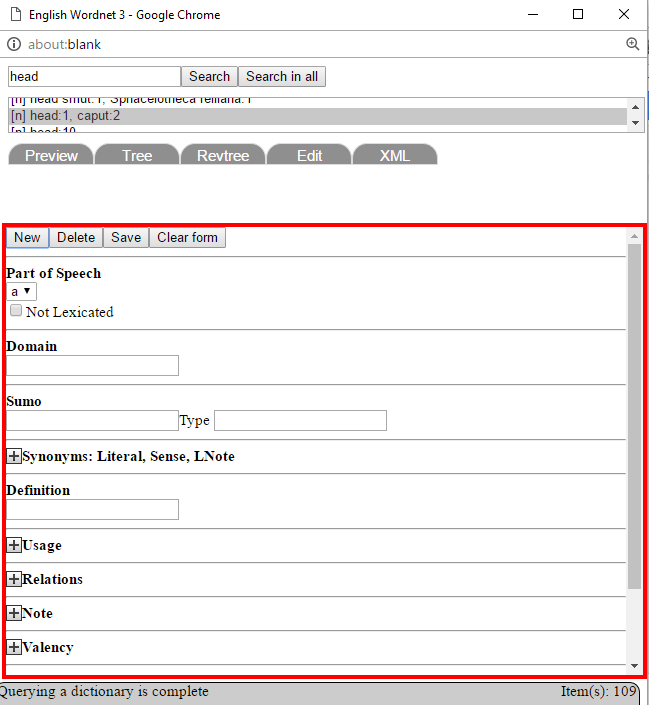 Changing an existing synset
click on Edit tab → rewrite/remove Synonym(s) → click Save
Click on + next to Synonyms and you can rewrite or remove individual literals.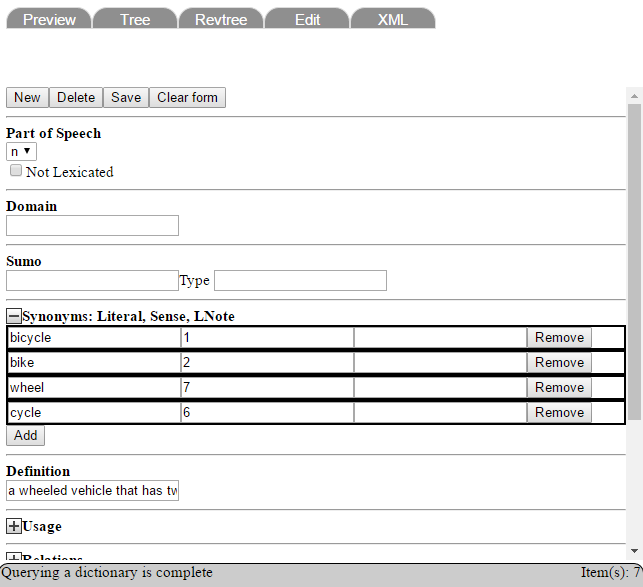 Editing relations
click Edit tab → type Relation(s) → Enter → select synset → select relation type → click Save
Click the Add button in Relations box to add new relation form fields. At first, a query resulting into the target synset must be constructed.
Write the query (e.g. "dog"; see queries) to the first box, press Enter (Select option displays) and select target synset from a dropdown list, which you could open by button on the right of the first box (this is important). If WordNet does not contain the typed entry, No options displays and you should type different query.
Select relation type in the second box. When adding hyponym/hypernym relations, add the hypernym of the synset only. Hyponyms are generated automatically.

Inter-WordNet functions - linking to other WordNets
Let us have a look at the last one of the Inter-WordNet functions.
| | |
| --- | --- |
| Take ID from | changes ID (used as ILI) of the selected synset to the value of synset ID in the selected dictionary. You can use this function to link several dictionaries to a central one. For example, create a new Czech synset, find the appropriate English equivalent and in the Czech WN select Take ID from English WordNet. Synsets are connected with the same ID/ILI and you can display them using Show and Autolookup functions. |
Locking synsets
When you start editing a synset, it is locked for you so no one else can make changes to this synset.
Export data
You can export data (in XML) from any WordNet available to you. Log in here using your credentials.